Hike-toberfest 2016
Saturday October 1st from 2pm to 7pm
Hike, Eat, Drink & Celebrate with Friends during our new fun fundraiser for the hiking trails of Van Cortlandt Park.  Come see why VCP is Where NYC Hikes.

Hikes start at 2pm: Hikers will have the option to go on a 4-5 mile hike throughout the park OR a 2 mile leisurely nature hike.  Both hikes will be led by Friends of Van Cortlandt Park Staff and take about 2 hours.  First 100 registered participants will receive a VCP Where NYC Hikes t-shirts.  Please note we have 100 registrations for the hike and we can no longer guarantee VCP Hikes t-shirts, however if you register in advance of the event you can still receive a Friends of VCP t-shirt at the event. Join us and see why VCP is NYC's Most Hikeable Park.

Oktoberfest is from 4-7pm:  Attendees will eat German Food by Loreley Restaurant & Biergarten and enjoy local brews from the Bronx Brewery, Chelsea Craft Brewing Company, Gun Hill Brewing Company and Jonas Bronck Beer Co. served by the Bronx Beer Hall and enjoy a German Chocolate Cupcake from Lloyd's Carrot Cake. Special thank you to everyone for donating.  Yard games will be setup to challenge your friends as you hang out on the Van Cortlandt House Museum Lawn.  Raffle tickets for sale at the event with prizes donated by Bronx Ale House, Garden Gourmet and Tin Marin Restaurant.

You can join us for just the Hike or the Oktoberfest or the entire Hike-toberfest Event!  Purchase your tickets in advance for a discount online  OR   Complete this form to purchase tickets by mail.

Hikes will start at and Oktoberfest will be held on the grounds of the Van Cortlandt House Museum- enter the Park at Broadway and W. 246th Street.
Sponsorship Opportunities Available.  Please click here for more details.
Special thank you to our sponsors: Bronx Beer Hall, Food Dynasty, Lloyd's Carrot Cake, Loreley Restaurant & Biergarten and the Van Cortlandt House Museum. Along with Bronx Brewery, Chelsea Craft Brewing Company, Country Bank, Edible Bronx, Gun Hill Brewing Company, Jonas Bronck Beer Co., Rambling House Restaurant, Ridgewood Savings Bank and Riverdale Family Practice.

Please note this is a Rain or Shine Event.  No refunds.
This fall, a portion of every Michelob ULTRA purchase will help restore 12 trails, including the John Muir Trail in Van Cortlandt Park, throughout the US and everyone can help decide how the funds are distributed. No purchase necessary to cast your vote.  For more information on this campaign please see our press release.  Visit www.michelobultra.com/theextramile.html to cast your vote for Van Cortlandt Park now.

Accepting Applications for HS Wetland Internship

Interested in the sciences and want to help improve your local ecosystem? Work alongside Friends of Van Cortlandt Park staff to develop and implement a project of your own design to deepen what we know about the Tibbetts Brook Watershed, one of the only freshwater streams left in New York City.  As an intern you will learn about the local ecology in the Bronx while gaining valuable job readiness and self-management skills and college preparedness through Riverdale Neighborhood House (RNH).  Interns will be guided by mentors to develop a project throughout the school year that they will then finalize during the Spring within Van Cortlandt Park.  Interns accepted into the program are required to attend alternating Fridays from 4:30-6:00pm at RNH and at least one day during the week at the Friends office to work on your project.  Applications are due by October 7th, 2016.
Show Your Support for Daylighting Tibbetts Brook
Water from Van Cortlandt Lake enters the Broadway sewer at a rate of 4 to 5 million gallons of water per day — and that's on a dry day. This water is then treated – for no reason- at the Wards Island Stormwater Treatment Plant. Often when it rains, the combination of sewage, street runoff and the brook enters the combined sewer, bypassing the treatment plant and flowing directly into the Harlem River. This one Combined Sewer Overflow (CSO), WI-056, connected to the Broadway sewer makes up more than half of the CSO water entering the Harlem River. Daylighting will remove this clean water from the sewer and help to reduce CSO occurrences on the Harlem River and help with flooding issues along Broadway and other areas of the Tibbetts Brook Watershed. 
The Friends of VCP have joined forces with the Bronx Council for Environmental Quality to create a Coalition for the Daylighting of Tibbetts Brook. As of June 24th, 2016, Bronx Community Board 7, Councilman Andrew Cohen, NYS Assemblyman Jeffrey Dinowitz, Congressman Eliot Engel, Fort Independence Park Neighborhood Association, Kingsbridge Business Improvement District, Councilman Mark Levine, NYS Senator Jeffrey Klein, The Natural Areas Conservancy, New Yorkers for Parks, Northwest Bronx Community and Clergy Coalition, NYC H2O, Senator Gustavo Rivera, Riverkeeper, S.W.IM. Coalition and the Trust for Public Land have signed on.  Bronx Community Board 8 passed their own resolution in favor of daylighting and supports the efforts of the Coalition.  If your group would like to sign on please email christina@vancortlandt.org .  Individuals may add their support by signing our online Free Tibbetts Brook petition.  
Watch this Video & Learn about the Friends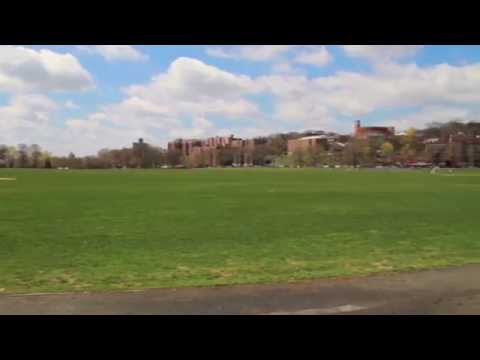 Click Here to Watch the Video Directly on YouTube.
Thank you to Next Round Productions for creating this wonderful video for us.  Very special thank you to Partnerships for Parks for helping to fund the video!
2015 Bio Blitz in Van Cortlandt Park

The Parks & Recreation Committee of Bronx Community Board 8, in conjuction with the Department of Parks & Recreation and the Friends of Van Cortlandt Park, conducted a bioblitz in Van Cortlandt P Park.  A bioblitz is a careful survey of the plant and animal life within a defined area.  In this case, the area was the southern end of the Putnam Trail, the southeast corner of the Parade Grounds, and the adjacent woodlands and wetlands. The data from the bioblitz was compiled by naturalist Parker Gambino.  Click here to read the report.
Master Plan for Van Cortlandt Park
NYC Parks recently finalized a comprehensive Van Cortlandt Park Master Plan that will guide the restoration of Van Cortlandt Park's natural beauty and provide solutions for the needs of all neighboring communities. The Master Plan charts clear courses of action to restore and improve this unique property.  The Master Plan is intended to coordinate efforts over the next twenty years between agencies, nonprofit partners, elected officials and community groups to complete capital projects in Van Cortlandt Park.  The Friends of Van Cortlandt Park look forward to helping to implement projects in this plan over the next 20 years.
FVCP in the New York Times!
FVCP was featured in a recent New York Times article New York Parks in Less Affluent Areas Lack Big Gifts.
The Friends of Van Cortlandt Park are a 501c3 nonprofit organization.
Our EIN is 13-3843182.