Wednesdays from July 8th to October 28th from 2:30pm to 7pm at the Train Park at Gale Place & Orloff Avenue.
Thursdays from July 9th to November 19th from 12pm to 7pm in front of Mosholu Montefiore Community at Gun Hill & Dekalb Ave.

Both markets will offer locally grown produce at affordable prices and accept Cash, EBT/Credit/Debit, Healthbucks, FreshConnect Bucks, WIC and FMNP checks.
Paint Nite Fundraiser- Thursday Sept. 17th at 7pm
In just about two hours, a performing artist will guide you through a painting so that you come up with your own unique masterpiece that you will be amazed YOU created. Everything you will need is provided: canvas, paints, brushes and even a smock. Event will be held at Kelly Ryan's at 5790 Mosholu Ave. Drinks, including mimosas, sangria and specialty cocktails, will be available for purchase off of a special Paint Nite menu.  A 50/50 raffle will be held during the event- first prize cash and second prize a special gift generously donated by Kelly Ryan's.  All proceeds will go towards future art programs in Van Cortlandt Park. Click here for more information and to purchase tickets.
Watch this Video & Learn about the Friends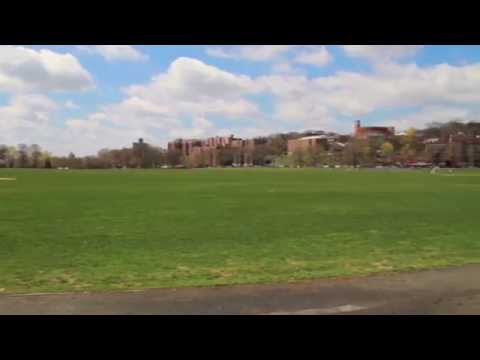 Click Here to Watch the Video Directly on YouTube.
Thank you to Next Round Productions for creating this wonderful video for us.  Very special thank you to Partnerships for Parks for helping to fund the video!
Support the Friends
We rely on the support of our friends to continue our efforts to Bring Youth, Community and Nature Together in Van Cortlandt Park.  Become a Friend Today!  We have high hopes for the coming year and hope you will help us realize our goals.  Together we can achieve so much. 
Master Plan for Van Cortlandt Park

NYC Parks recently finalized a comprehensive Van Cortlandt Park Master Plan that will guide the restoration of Van Cortlandt Park's natural beauty and provide solutions for the needs of all neighboring communities. The Master Plan charts clear courses of action to restore and improve this unique property.  The Master Plan is intended to coordinate efforts over the next twenty years between agencies, nonprofit partners, elected officials and community groups to complete capital projects in Van Cortlandt Park.  The Friends of Van Cortlandt Park look forward to helping to implement projects in this plan over the next 20 years.

FVCP in the New York Times!
FVCP was featured in a recent New York Times article New York Parks in Less Affluent Areas Lack Big Gifts.
The Friends of Van Cortlandt Park are a 501c3 nonprofit organization.
Our EIN is 13-3843182.